Sadaf Brothers Industries was formed in the year 1985. Since its inception, the company has flourished into a lucrative towel manufacturing Production Company. The company is responsible for the entire towel manufacturing process with separate departments spear heading all the different processes for towel production.
Sadaf brothers industries  are based at Karachi, Pakistan. Apart from this, we are  also produced customized products as and when required to cater buyers for their requirements .We are producing towels in all sizes from Wash, Guest, Kitchen, Hand, Bath, Bath Sheet, Beach Towels, Bath Mat,Bath Towels  and Bath Robes and it covers the entire range of bath category products.
We provide our clients with high quality products to ensure that their requirements are met.
Our Production Capacityy
Our production capacity is approximately 1200 Metric tons per annum. We have 48 operating looms. Our enterprise operates for 305 days a year with two production shifts of 24 hours daily.
Most of the towel industry is classified as constituted of small and medium sized units having smaller productions, and mostly manufacturers do not have complete processing facilities. The woven towel is sent to independent processing units. This reduces the capital cost of the manufacturers, but at the same time, increases the quality cost. Quality control becomes very difficult when processing is sub-contracted. The decision to establish an in-house processing facility is supported by the fact that orders that a manufacturer gets from buyers are in line with the manufacturing capabilities, so there is a need to invest in modern processing facilities.
Since this is an export-oriented industry, so quality is the most important tool that a manufacturer can use to achieve good price and market share of its product through the modern processing facilities. For a new entrant, it may be difficult to fetch orders without any proper production facility. Another important processing step is drying. Since the weight per unit area is higher for a towel as compared to other woven fabrics, so drying time is relatively higher.
Majority of the manufacturers uses atmospheric drying in the sunlight. Large manufacturers have their own hydroextractors that improve the quality of their final product. Due to the quality issues, a hydroextractor has been recommended for this project. Final operation is cutting and stitching.
This is fairly a simple operation and does not require much expertise. There are no major technology issues in this operation of towel manufacturing. A complete towels unit with looms and dyeing section has been recommended instead of outsourcing some of the processing functions.
According to industry sources, it is difficult to get the production processed on regular basis from other units because the unit, which is giving good quality, usually remains busy. Outsourcing results into increased costs of production hence reducing profits. Most of the export-oriented units in the country have their own processing facilities.
Our Production Process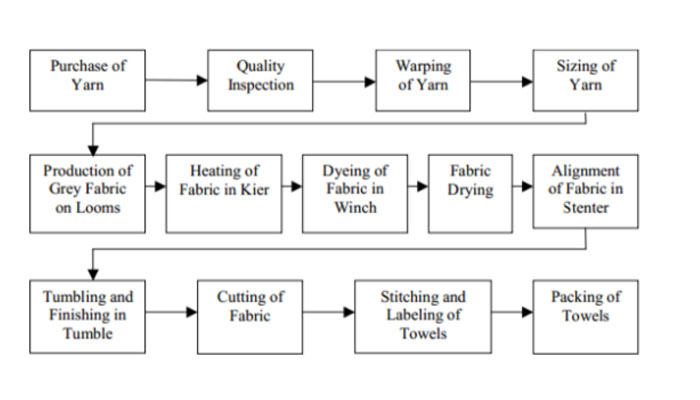 Property, Plant and Machinery Available
| | |
| --- | --- |
| Machines | Number Of Units |
| Looms | 48 |
| Winch | 10 |
| Hydro-Extractor | 02 |
| Warping | 04 |
| Inspection Rolling Machine | 02 |
| Boiler | 02 |
| Stitching Machines | 35 |
| Cutter | 04 |
| Frames, Trolleys and Water Pump | 12 |
| Transformer, Cable and Control Panel | 11 |